A dog is a man's best friend, and we believe that here in Elizabethtown. Etown is a great place to bring your furry friends. Our wide variety of local restaurants, shops, and activities include many pet-friendly options. Get ready to pack your pup and follow along as I walk you through a day with my dog, Jasper, here in Bourbon's Backyard.
 Jasper and I love starting our day off right: with a little bit of coffee! We made our way to Vibe, a local café in our historical downtown district. Vibe Coffee is a super pet-friendly environment. While I enjoy my morning coffee and Jasper finishes up his complimentary puppuchino, we greet all the kind people, and dogs, who come into the shop after us.
After our morning treats, we make our way to Freeman Lake to enjoy the morning before it gets too hot. Elizabethtown's biggest park offers multiple trails of all different shapes and sizes. As we wrap up our walk, we make our required stop at the dog park (Jasper's rules, not mine!). There are sections for both big and little dogs, so Jasper gets to enjoy fun with dogs his size. He loves all the open space and new friends that the park offers!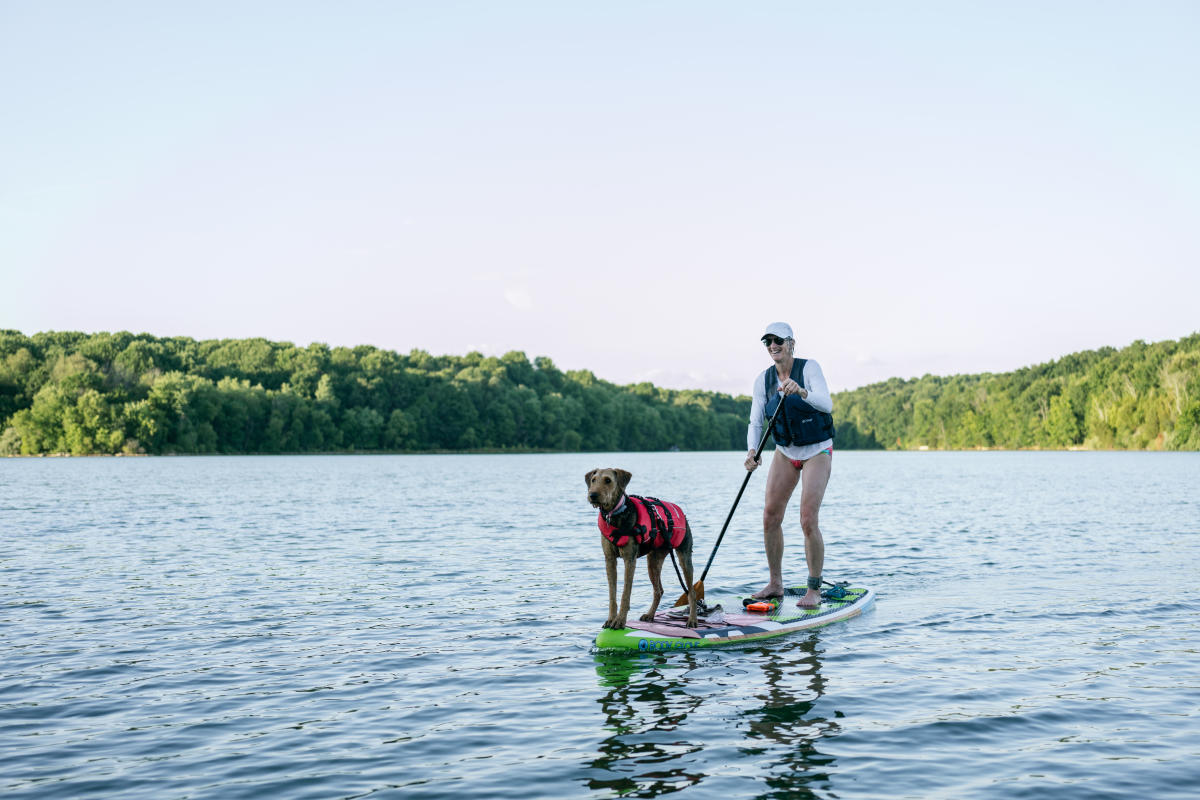 Playtime always makes Jasper hungry, so we decide it's time for lunch! I decided on Impellizzeri's, an Italian restaurant in downtown Elizabethtown. They boast delicious and authentic Italian food, as well as a lovely patio area for me and Jasper to relax on. They are always so kind to Jasper when we come here together, plus the pizza is fantastic. We also like to swing by The Dreamery for a sweet treat. Not only do they have great ice cream, but they also offer whipped cream pup cups, Jasper's favorite!
If you're like me and need to do some shopping, downtown Etown is a great spot to hang out and bring your dog along. There are tons of cute places to get everything from home décor to boutique clothing! Businesses such as Denizen, Swanky Shoppe, and Sweet Tea & Grace are all very pet-friendly, greeting Jasper and I with a smile! 
 Nothing says winding down like a cold afternoon beer, and what better place for me and Jasper than Flywheel Brewing. They are famous for their craft beers but offer a full bar if that isn't your thing. Flywheel Brewing loves dogs, and they know my pup by name! Their covered patio is a great spot for me and Jasper to meet other folks with their canine companions.
There are so many things to do with your pet in Elizabethtown!