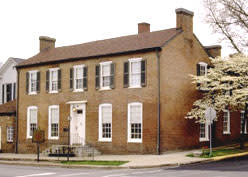 Contact: Twylane Van Lahr, Director

E-mail: brownpuseyhouse@windstream.net

Hours:    Tue-Sat, 10am-4pm EST

Facility rental available everyday

Admission:    Free (Group tours by appointment only)
Built in 1825 by John Y. Hill as his home, this warm stately old home was for many years the Hill House, a hotel operated by "Aunt Beck" Hill. Among the guests at the Hill House were General George Armstrong Custer and his wife Elizabeth Custer. General Custer's assignment in Elizabethtown was to combat the influence of the Ku Klux Klan and the illegal distilleries. Another notable visitor to the Hill House was the Swedish Nightingale, Jenny Lind, who sang on the front steps for a rather large crowd.
In 1923, the Brown-Pusey House was restored and given to the community by Dr. William Allen Pusey and Dr. Alfred Brown Pusey (great-nephews of "Aunt Beck") as well as Mrs. William Allen Pusey (Sallie Cunningham Pusey) and the related Hastings family. The welcome words of Oliver Wendell Holmes in the foyer capture the atmosphere that is sought after by the many visitors:
"There is no time like the old time
When you and I were young.
There is no place like the old place
Where you and I were born."
The Brown-Pusey House serves the community in many ways, as envisioned by its grantors. This Georgian mansion houses the Pusey Room Museum, a genealogical library, and meeting rooms for private and public functions. It also maintains a beautiful garden adjacent to the House.
The Pusey Room Museum contains much of the professional memorabilia and cherished family mementos of Dr. William Allen Pusey, who was a preeminent physician of the late 1800's and early 1900's. The room, in part, is a replica of his medical office with most of his furnishings and professional related literature on display. Although his practice was centered in Chicago and national in scope, he remembered, in a special way, his native community and family origins.
Aside from Pusey memorabilia, the Museum contains other historically significant items such as an original picture of General Custer, which is signed and dated by Mrs. Custer. Other artifacts include Civil War related items associated with Confederates General Ben Hardin Helm, Captain Martin Hardin Cofer and Lieutenant John Augustus Warfield.
The genealogical library is available to visitors and others by way of mail for research as to ancestry or history. Among the resources are near complete collections of Hardin County, Kentucky records dating from 1793 to roughly 1900. These records include marriages, wills, tax lists, court orders, settlement records, deeds, censuses, cemetery inscriptions, family files, bible records, and other items of genealogical interest. Nominal fees are charged for use of the library and research services.
Sallie Cunningham Pusey, as a memorial to her parents, established the Cunningham Garden. With the creative help of Chance Hill, a noted Chicago landscape architect, Mrs. Pusey constructed the garden and, until her death several years later, maintained it. Currently, its attractive condition is due to the services of the Elizabethtown Garden Club.
The ballroom, parlor, dining room, and kitchen are used for weddings, receptions, parties, and other public and private meetings. The garden is made available when the meeting room facilities are rented.
Visitors are welcome during open hours and the House is available for rental to clubs, organizations, churches, businesses, and individuals.
invalid widget [plugins_listings_listbyids] []