A Weekend in
Elizabethtown
Take a quick family trip in Kentucky's heartland

But the kids will miss two days of school.
That's what my husband, Rick, initially said when I suggested we take an early weekend getaway to Elizabethtown—ever the father worried about his children. However, after just a few minutes of reading about the area, he quickly commandeered the planning of our educational escape. "Between Abraham Lincoln and Jim Beam, how can this not be required traveling?" he asked.
Day 1
History three ways: park, museum and walking tour
Technically, we were in Freeman Lake Park. But according to Tate—the same 10-year-old whose last science test is proudly displayed on our fridge—we were in a freshwater ecosystem. While pedal-boating around the namesake lake in Elizabethtown's largest city park, Tate played amateur biologist. Between the Canada geese, ducks and jumping largemouth bass—mostly trying to escape the fisherman boating next to us—he and his eight-year-old sister, Anna, had plenty to "study." Rick and I were just happy to be away from our offices' fluorescent lights, breathing in fresh air and bonding with the kids. Much like it takes two to tango, it takes two to maneuver a pedal boat!
After returning the pedal boat rentals, we explored the park's historical landmarks. The plaque next to the one-room cabin built in honor of the home once lived in by the wife of Abraham Lincoln's father read "Keeping alive the memory of the most famous stepmother in American history."
"You may not be the most famous, but you're my favorite stepmother" Anna said sweetly. I laughed and told Anna that filling Elizabethtown native Sarah Bush Johnston's shoes—helping raise a boy to become one of the most famous presidents in history—was a big task (and I pointed out that I was the only stepmother she's ever had). Life was much harder back then, too. Nearby, at the Lincoln Heritage House, we saw how Thomas Lincoln, Abe's father, helped build a four-room cabin—including stairs—from hand-hewn logs. Then, the park's historic one-room schoolhouse—complete with blackboard, wooden desks and encyclopedia set—gave Tate and Anna an appreciation for their school's state-of-the-art classrooms.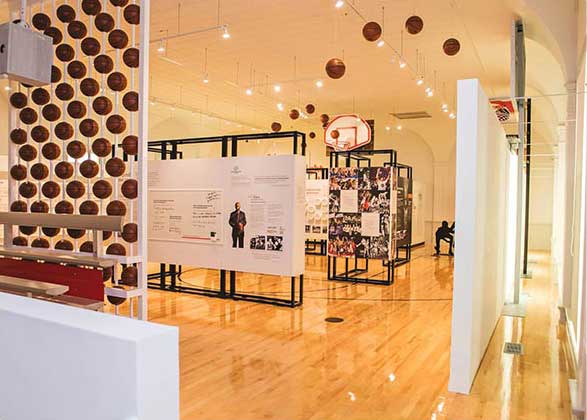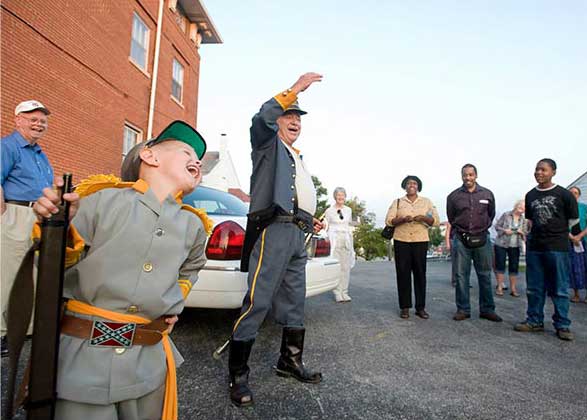 "When I was in school, these were all the rage," Rick reminisced that afternoon. The vintage high top Converse Chuck Taylor All-Stars were just one of many nostalgic exhibits at Elizabethtown's Kentucky High School Basketball Hall of Fame Museum. Although I never played in high school, I gained a new appreciation for the girls who did. The museum showcased the history of the sport—including a time when it was deemed "unsafe" for women. Meanwhile, the kids loved the touchable timeline showing how the basketball's material and size changed over the decades. There were also wooden backboards, chain nets and uniforms with shorts so short and socks so high you felt a little embarrassed for those early players.
"Wow, that's a lot of clothes! They must have been really hot," Tate said later that night when we were downtown, taking advantage of Thursday night's free Historic Costumed Walking Tour. The period clothing our tour guides were dressed in were very modest compared to our late June attire. They must really love acting, I thought. And judging by their enthusiasm, they were clearly passionate about local history. Our guides also mentioned that we could download Elizabethtown Tourism's free app, which features a digital guided tour—because they too like to take a day off every now and then.
Day 2
Collectors, conductors and cabins
"Free samples!" Anna proclaimed the next morning. Leave it to the kids to be the first to spot tasting tables in the Glendale Antique Mall. In search of unique souvenirs, we'd decided to drive the nine miles down to Glendale Historic District for some small town shopping. Apparently, that included sampling homemade dips and mixes (they packed in way more flavor than their big box store counterparts). But the best part of the morning was simply talking with the vendors—mostly locals and many animated collectors of things you'd never need but could spend hours admiring.
"It's a very moving tribute," Rick observed that afternoon. Since we were in Abraham Lincoln's old stopping grounds, it made sense to swing by Abraham Lincoln's Birthplace. Not only is it a national park, it's home to the country's first Lincoln memorial. Pretty much every place in the county where Lincoln is recorded as having spent time is revered. A park ranger described the Lincoln Museum just up the road in Hodgenville, and the first address we plugged into our GPS after leaving took us to the Lincoln Boyhood Home—conveniently located en route to our next stop: the Kentucky Railway Museum. Although we had a 22-mile scenic train ride to catch—and we'd even reserved a spot for Tate to ride up by the engine with the conductor—we decided it was worth a stop. If the kids could see Abraham Lincoln's humble beginnings, they'd stop complaining about sharing a bathroom at home.
Day 3
Touring a mansion, tasting bourbons and making memories
"Welcome home!"
The door to the mansion swung open and we were greeted with another guide decked out in 19th century clothing. It was still early morning, but she was beyond animated—even breaking into song at one point. Of course, you can't expect to take a tour of My Old Kentucky Home without hearing the ballad that before our visit, we only knew as the state song. At this Federal Style mansion—complete with landscaped grounds—we learned more about Kentucky's history and peeked into the life of an upper-class farming family during the 1840s. These were the class of people who had the likes of Andrew Jackson over. The first floor even showcased Jackson's favorite napping couch to prove it! Apparently, Central Kentucky's presidential ties ran sleep deep.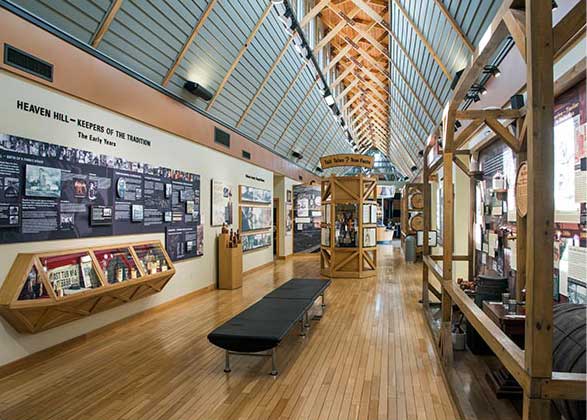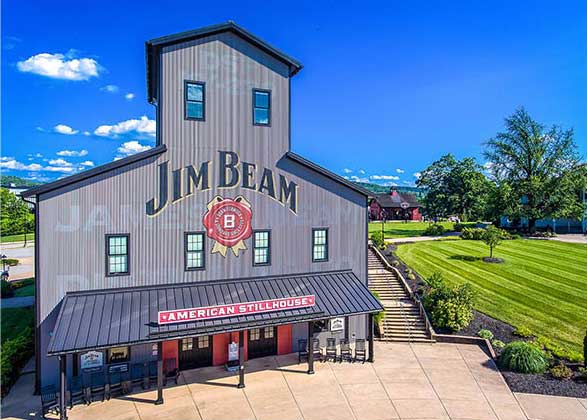 "I didn't know George Washington was a whiskey distiller," Tate said an hour later. A few minutes earlier, he didn't even know what a distiller was. Since you can't fully appreciate Kentucky's role in American History without tasting bourbon, our next stop was Heaven Hill Bourbon Heritage Center. Rick, a whiskey connoisseur, acted like he was literally in heaven. Meanwhile, the kids and I explored the interactive exhibits, pushing buttons and trying to guess the age of various bourbons based on their aromas at the whiffing station.
The hands-on "learning" continued on as we finished up our weekend at the Jim Beam Distillery. In addition to touring and tasting, for the adults, we actually created our own souvenirs! First, we ran the Knob Creek bourbon through the bottling process—filling, labeling and sealing. Then, the kids put the finishing touches, quite literally, on our weekend. It will be fun to compare those thumbprints in the bottles' wax tops with their 21-year-old thumbs. Rick and I never thought we'd be looking forward to those two birthdays, but if it means revisiting our time in Elizabethtown, we can certainly make an exception.