7120 Bardstown Road
Hodgenville, KY 40051
(270) 358-3137

2995 Lincoln Farm Road
Hodgenville, KY 42748
(270) 358-3137

128 North Main Street
Elizabethtown, KY 42701
(270) 765-2515

201 W. Dixie Ave.
Elizabethtown, KY 42701
(270) 763-8339

Freeman Lake
Blue Heron Way
Elizabethtown, KY 42701
(270) 769-3916

66 Lincoln Square
Hodgenville, KY 42748
(270) 358-3163

Blue Heron Way
Freeman Lake Park
Elizabethtown, KY 42701
(270) 769-3916
Abraham Lincoln's years in Kentucky
"I was born on February 12, 1809, in the then Hardin County, Kentucky, at a point within the now county of LaRue, a mile or a mile and a half from where Hodgen's Mill now is." - Abraham Lincoln
Abraham lived in Kentucky from his birth in a log cabin in 1809 until his family moved to Indiana in 1816. As a young boy, Lincoln lived on Sinking Spring Farm and later on Knob Creek Farm, both in what is now Larue County. It was while he lived at Knob Creek that Abe and his sister Sarah first attended "blab" school, a one-room schoolhouse where students recited their lessons aloud at the same time. Today, a marker notes the location of the schoolhouse in Athertonville. Lincoln also found time to play with his neighbors. One of his neighbors, Austin Gollaher, saved Abe from drowning in a flooded Knob Creek. Logs from the Gollahers' cabin were used to make a replica of the Lincolns' cabin at Knob Creek. 
Lincoln did not forget Kentucky after he moved away. In 1842 he married Mary Ann of the prominent Todd family of Lexington, Kentucky. While his marriage was a pleasant connection, during the war Kentucky was a source of tension. Kentucky, as a border state, was a key state in the Civil War. Lincoln saw having Kentucky's support as so important to the Union's success that he once declared, "I hope to have God on my side, but I must have Kentucky."
A Timeline of the Lincoln Family in Kentucky  
1782 The Lincoln and Hanks families and relatives begin settling in Washington County.
1788 Captain Abraham Lincoln, the father of Thomas Lincoln, is killed by Indians.
1792 Mordecai Lincoln, son of Captain Abraham, marries Mary Mudd, ancestor of Dr. Samuel A. Mudd. Dr. Mudd treated John Wilkes Booth after the assassination.
1795 Thomas Lincoln, Mordecai's youngest brother, appears on the militia rolls of Washington County.
1801 Three of the four children of Captain Abraham and Bathsheba are married in Washington County.
1802 Bathsheba Lincoln moves to Mill Creek in Hardin Co.
1806 Thomas Lincoln marries Nancy Hanks in Washington Co.
1807 Sarah Lincoln is born to Thomas and Nancy in Elizabethtown.
1808 Thomas moves his family to Sinking Spring Farm near Hodgenville.
1809 Abraham Lincoln, the second child of Thomas and Nancy, is born on February 12.
1811 Thomas moves his family to Knob Creek Farm, remaining close to Hodgenville.
1816 The Lincolns leave Kentucky.
1818 Nancy Hanks Lincoln dies of milk sickness.
1819 Thomas Lincoln briefly visits Hardin County and marries Sarah Bush Johnston, a widowed mother of three. Shortly after, they return to Indiana where they raise all the children together.
Abraham Lincoln's Relatives 
"CAPTAIN" ABRAHAM LINCOLN & BATHSHEBA LINCOLN — Paternal Grandparents
"Captain" Abraham Lincoln and his wife Bathsheba Lincoln moved to the Mill Creek Valley in Kentucky in the early 1780's.  Young Thomas Lincoln (President Lincoln's father) was just 3 years old.  After her husband was killed by Indians in 1786, Bathsheba moved her family to Washington County, Kentucky.  Around 1803 Thomas Lincoln purchased a farm at Mill Creek in Hardin County and Bathsheba returned to live for her remaining 33 years.  Bathsheba along with her youngest daughter, Nancy Lincoln Brumfield, are buried at the Mill Creek Cemetery, which is now known as the Lincoln Memorial Cemetery.  The Mill Creek Valley was taken for the expansion of the Fort Knox Military Reservation in 1941.
Thomas Lincoln lived in Elizabethtown and Hardin County from about 1796 to 1808.  A solid citizen, he farmed, guarded county prisoners, served as a jury member, helped layout and build roads, and served in the militia.  His services as a carpenter and cabinetmaker were always in demand.  Lincoln helped construct industrial buildings, such as Haycraft's Mill, and homes such as the Hardin Thomas House, now known as the Lincoln Heritage House.

NANCY HANKS LINCOLN — Birth mother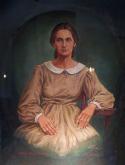 As a child Nancy was taken into Kentucky by her mother, traveling along the Wilderness Road through the Cumberland Gap.  As Nancy grew up, she was skilled in the art of needlework, becoming an excellent seamstress.  Nancy sometimes lived briefly with families for which she was sewing; her services were in demand in Hardin, Mercer, and Washington counties.  During the time Nancy was working as a seamstress she met Thomas Lincoln, a carpenter from Elizabethtown.  A romance developed, resulting in marriage.  The couple may have lived on the Mill Creek farm for as long as a year before moving to Elizabethtown, where Thomas built a house.  Their first child, Sarah, was born in Elizabethtown in 1808.  Later the Lincolns moved to the Sinking Spring Farm on Nolin Creek about 3 miles from Hodgenville, in Hardin County.  On February 12, 1809, Nancy gave birth to a boy.  The boy was named Abraham after his paternal grandfather who had been killed by Indians in 1786.
Both the Sinking Spring and Knob Creek farms were in Hardin County when the Lincolns lived there.  Larue County was not formed until 1843.

SARAH BUSH JOHNSTON LINCOLN — Stepmother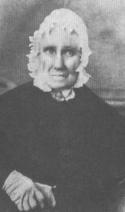 She was born in Hardin County, Kentucky, on December 13, 1788.  In 1816, the year Sarah Bush Johnston lost her husband Daniel, the Lincolns left Kentucky and settled in Indiana.  Less than two years later Nancy Hanks Lincoln died.  Abraham was 9 years old and his sister Sarah was 11.  The next year Thomas returned to Elizabethtown, Kentucky and proposed to Sarah Bush Johnston, whom he had known for many years.  Thomas Lincoln and Sarah Bush Johnston were married in Elizabethtown on December 2, 1819 in an old log house which stood at the present address of 117 North Main Street.  A copy of their marriage bond may be found at the local Hardin County Library.

EMILIE TODD HELM — Half-sister of Mary Todd Lincoln, wife of President Lincoln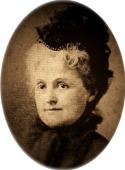 In 1856 she married Benjamin Hardin Helm of Elizabethtown who was a member of the Kentucky Legislature.  While serving as a Confederate General during the Civil War, he was killed at age 32.  Emilie lived with the Lincolns in the White House for a time after the death of her husband.  In 1881, her nephew, Robert Todd Lincoln obtained for her an appointment as postmistress of Elizabethtown.  Her last home in Elizabethtown is on the historic driving tour of Elizabethtown.
 
BENJAMIN HARDIN HELM — Brother-in-law of President Lincoln
Local Elizabethtown resident, Confederate Brigadier General Benjamin Hardin Helm was the leader of the Orphan Brigade and was the son of Kentucky's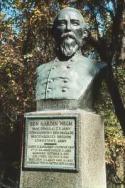 Governor.  At the outbreak of the war, President Lincoln offered Ben Hardin Helm a position of Paymaster in the Union Army, with the rank of Major, which Helm declined.  "I never saw Mr. Lincoln more moved," said US Senator David Davis," than when he heard of the death of his young brother-in-law Ben Hardin Helm.  I called to see him, and I found him in the greatest grief."  He was killed in the Battle of Chickamauga.  Both he and his father once lived in the Helm Mansion (known as the "Helm Place") in Elizabethtown and are both buried in the family plot in the Helm Cemetery.  The mansion and cemetery are still in good condition and available for viewing. Ben and Emilie Helm's daughter Katherine became a well known artist, painting many portraits of the family and notable personalities, including one of her aunt Mary Todd Lincoln, which now hangs in the White House.  Two of her portraits of the Pusey family are on display at the Brown-Pusey House in Elizabethtown.
Experience the Lincoln Connection First-Hand
There are several sites in and around Hardin County that have a connection to Lincoln, his family and the Civil War.
At the Abraham Lincoln Birthplace National Park in Hodgenville, Kentucky a log cabin symbolic of the one in which Abe would have been born is housed within a monument built on 116 acres of Thomas Lincoln's Sinking Spring Farm.

"My earliest recollection is of the Knob Creek place," Abraham Lincoln wrote to Samuel Haycraft of Elizabethtown in 1860. A replica cabin can be seen at the National Park site Abraham Lincoln's Boyhood Home at Knob Creek, also located in Hodgenville, Kentucky.

In the Lincoln Room of the Fort Knox Saber & Quill, visitors can see the original mantelpiece from the home of Bathsheba Lincoln.  The Saber & Quill (formerly known as the Leaders Club) is open to the general public. The gravesites of Bathsheba Lincoln and Nancy Brumfield are located at Fort Knox, as well, but are not open to visitors. 

Related sites in Elizabethtown are the Helm Place and Helm Cemetery.  Located at Freeman Lake Park is the Sarah Bush Johnston Lincoln Memorial Cabin.  It is a replica of the cabin in which she and her three children lived when Thomas returned to propose. 

Elizabethtown features historic markers of Sarah Bush Johnston and Thomas Lincoln's marriage site as well as the Lincoln-Haycraft Memorial Bridge.

Another place of interest is the Brown-Pusey House, located in downtown Elizabethtown.  The house features a cabinet crafted by Thomas Lincoln, and has an excellent history and genealogy library on-site.

Hardin County is the home of Kentucky's largest and best preserved earthen Civil War Fort open to the public.  Located at West Point, the fort's volunteers hold living history events throughout the year, including reenactments.

The Hardin County History Museum displays memorabilia associated with the three Civil War Forts in Hardin County:  Fort Sands, Fort Boyle, and Fort Duffield.  Training manuals, photos, and a telegraph dispatch from President Lincoln to Union General Rousseau while stationed at Camp Nevin are also on display.  Camp Nevin was a Union training camp to the south of Elizabethtown at Nolin that numbered 15,000 men from October 1861 through January 1862.  It was the last stopping point for troops bound for southern battles.