Etown is for everyone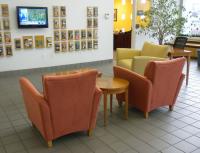 Welcome to the Elizabethtown Tourism & Convention Bureau with its state-of-the-art tourism center! We are easily accessible on I-65 at Exit 94, then west on US 62/North Mulberry Street. If traveling the Western Kentucky Parkway or the Bluegrass Parkway into Elizabethtown, take I-65 North to access Exit 94.
The spacious lobby with its glass window-wall features plenty of seating to relax in while you browse through brochures and snag some Etown swag. Our friendly staff are eager to provide you with information, directions, and ideas for your vacation. Just give us a call at 270-765-2175. 
We are easily accessible to motor coaches, RVs, trailers, vans, or whatever your mode of transportation. Restroom facilities with diaper changers, snacks and drinks. Complimentary milk bones for your furry friends! 
Unwind in the evening in Downtown Elizabethtown at some of the local's favorite nightspots!
read more
From craft burgers to craft gelato Downtown Elizabethtown has places to eat for everybody!
read more