Visitor Center Facilities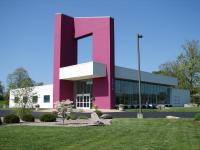 The Elizabethtown Tourism and Convention Bureau boast of being one of Kentucky's most convenient locations on I-65 at exit 94. A modern facility; the bureau is within walking distance of a selection of hotels and restaurants.
The facility contains almost 5000 square feet of meeting space, a spacious lobby with a window-wall facing the south, and comfortable seating for relaxing during breaks. This location offers a total of five meeting rooms.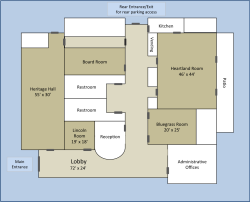 (Click to Enlarge)
We offer design services to help you plan your room arrangement. Whether you are local or long distance, we can sit with you to plan your room or email the schematics if you are far away.
A telephone/modem access line, high-speed wired and wireless internet access are available in all of our rooms.  Our free WiFi runs at a download speed of 120 Mbps and an upload speed of 24 Mbps and each meeting room is equipped with commercial WiFi boosters.
A caterer's kitchen is provided for your convenience. It is neat, clean, and functional with a microwave, refrigerator, icemaker, sink, ample counter space, and a work island to serve your caterer's needs.
Vending machines are available in the public areas or the staff can provide beverage service.
The Elizabethtown Tourism and Convention Bureau also has available the following equipment: Portable TV/VCR/DVD's, multi-media projector, flip chart stands, dry erase boards, podium/lectern and microphone equipment.
Feel free to contact us at 1-800-437-0092 or operations@touretown.com for additional information; our friendly and helpful staff is waiting to assist you with your event planning needs.