Visitor Center Facilities
The Elizabethtown Tourism and Convention Bureau is one of Kentucky's most convenient meeting locations, seated just off I-65 at exit 94. Our modern facility is surrounded by a number of hotels and area restaurants that add to its appeal.
The facility contains almost 5000 square feet of meeting space, a spacious lobby with a window-wall facing the south, and furniture for both collaboration and relaxation. We are proud to offer five meeting rooms of varying sizes to meet the needs of diverse groups.
Heartland Room
Heritage Hall
Bluegrass Room
Lincoln Room
Board Room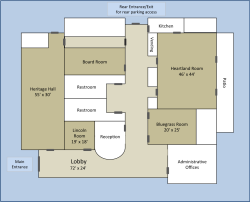 (click to enlarge)
A caterer's kitchen is available for your convenience with a microwave, refrigerator, icemaker, sink, and ample counter space to serve your caterer's needs.
Some of our rental policies have been updated to keep our guests safe. Feel free to contact us at 270-765-2175 or jrusso@touretown.com for more information. Our friendly and helpful staff is waiting to assist you with your event planning needs.
Join our e-newsletter and get the scoop on everything happening in Etown. From upcoming events to the latest Etown merch, we have you covered!
read more
From viewing horseless carriages and sporty automobiles at the Swope's Cars of Yesteryear Museum to picnicking at Freeman Lake Park, there are plenty of fun things to do...
read more